A veteran-founded family business located in Colorado Springs, Colorado specializing in Commercial and Residential Construction.
Get a Quote For Your Project
Quality Construction Since 1968
Tall Pines Builders is a veteran-owned family business that is located in the beautiful city of Colorado Springs, CO.  Specializing in commercial and residential construction projects of all types. We strive to take pride in timely service, excellent work, and integrity. We have over 50-years of construction experience, it is our goal to communicate with our customers regularly and provide education on the construction process. Some recent projects include the construction of an 8,000 s.f. steel warehouse, a commercial tenant finish of over 10,000 s.f. for a local home builder, and various residential remodels.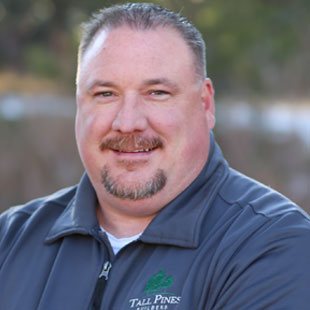 Travis Olmstead
Vice President, Co-Owner
Travis is the Vice President for Tall Pines Builders. Prior to his tenure at Tall Pines, Travis acted as Operations Manager for Home Depot in Monument for over 12 years overseeing operations, merchandising, and various crews. He also has a background in structured wiring and cabling. He worked in his family businesses during his growing up years forming an incredible work ethic and ability to take charge and get things accomplished. He is not satisfied until a project is completed to the highest standard.
Travis is an avid Broncos fan and is known to travel to wherever they are playing to catch a game. He is married to his beautiful wife, whom he met and dated for 2-weeks in the 6th grade and then reconnected with in college. They have six children (2-boys and 4-girls) and live in Colorado Springs, Colorado. Their children are very active in sports and Travis fills his spare time attending competitive football and soccer games and spending time with friends and family.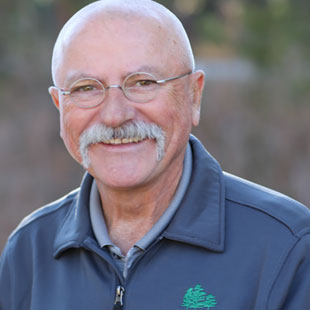 Steve White
Founder, Co-Owner
Steve is the founder & co-owner of Tall Pines Builders. He has held an A-1 general contractor license since 1972 and has worked in the construction industry since 1968. He is a United States Air Force Vietnam Veteran and went on to a successful career as a United Airlines Captain.
Upon his airline retirement in 2014, Steve incorporated Tall Pines Builders and began building the business up to what it is today. During his tenure at United Airlines, Steve kept his licenses current and was active in the building industry on his off days from flying. Steve also served as a Deputy Federal Flight Deck Officer for the Department of Homeland Security.
Steve lives with his wife Barb in Monument, Colorado. They have shared 48 years together and have two daughters, two sons-in-law, 10-grandchildren, and a German Shepherd dog they affectionately call Heidi. In his spare time, Steve serves as an elder and director of security at his local church and loves to ride his Harley and take Barb and Heidi camping.